Actual version: SketchUp Pro 2017
Producer: Trimble Navigation Ltd.
Basic description: SketchUp, marketed officially as Trimble SketchUp, is a 3D modeling program for a broad range of applications such as architectural, civil, mechanical, film as well as video game design — and available as Sketchup Make (a free version for non-commercial use) or as Sketchup Pro (a paid commercial version).
Language versions: EN, CZ, ...
Native file format: SKP

SketchUp is software that you can use to create 3D models of anything you like.
SketchUp allows you to build incredible 3D models in a fast and simple way. It has a complete tutorial in which you can learn how to use all its tools in no time. You can give your first steps exploring the tridimensional design world. Thanks to its simple tools, you can create 3D models of buildings, cars or any other thing you can think of. SketchUp is an application of 3D design far away the picture we use to have about this utilities as very complicated tools of which very few know all its tricks. Creating a geometric shape is very simple. It's enough with draw a rectangle with the pencil tool and drag it with the mouse to give it volume. From there, is possible to create windows, doors and all kind of shapes you can imagine. Also, it allows to include colors and textures in the models. SketchUp lets you export your constructions to different graphic formats such as JPG, BMB, TIFF, PNG. Once you have your creations ready, you can save, print on paper or send them to Warehouse gallery.


Minimal System Requirements for SketchUp:
Operating System:
Microsoft Windows 10, 8/8.1 (Pro, Enterprise), Windows 7 (Enterprise, Ultimate, Professional, Home Premium) - only 64 bit version
Macintosh - MAC: 10.10 + (Yosemite), 10.11. + (ElCapitan ) a 10.12 + (Sierra )
CPU: 2 GHz
RAM:  4 GB
Graphics card:
OpenGL 3+ !
Other Requirements: Microsoft Internet Explorer 9, .NET Framework 4.0, QuickTime 5.0
SketchUp is used by hundreds of thousands of professionals in (take a deep breath) architecture, construction, engineering, commercial interiors, light construction, landscape architecture, kitchen & bath design, urban planning, game design, film & stage, woodworking, and plenty of other fields use SketchUp Pro all the time, every day. It's the all-purpose antidote to complicated, expensive CAD software.

SketchUp Features of 3D Modeling
Accurate measurements

SketchUp is great for working fast and loose, but it's more than just a fancy electronic pencil. Because you're working on a computer, everything you create in SketchUp has a precise dimension. When you're ready, you can build models that are as accurate as you need them to be. To model with precision, simply type in dimensions as you draw. You can also use the tape measure tool to set accurate modeling guides.

Copying & Arrays

SketchUp's Move tool is a double agent; it's also the tool you use for copying entities. While you're moving something, just tap a modifier key on your keyboard to let SketchUp know that you want to make a copy. Need an array of multiple copies? There's a simple way to do that. And because we're wired for simplicity, copying and arrays works the same way with the Rotate tool.

Edges and Faces

Every SketchUp model is made up of just two things: edges and faces. Edges are straight lines, and faces are the 2D shapes that are created when several edges form a flat loop. For example, a rectangular face is bound by four edges that are connected together at right angles. To build models in SketchUp, you draw edges and faces using a few simple tools that you can learn in a small amount of time. It's as simple as that.

Follow Me

SketchUp's innovative, do-everything Follow Me tool creates 3D forms by extruding 2D surfaces along predetermined paths. Model a bent pipe by extruding a circle along an L-shaped line. Create a bottle by drawing half of its outline, then using Follow Me to sweep it around a circle. You can even use Follow Me to round off (fillet) edges on things like handrails, furniture and electronic gadgets.
Inferencing

SketchUp makes it easy to draw in 3D space by calling out helpful points in your modeling space, highlighting them with different colors and easy-to-understand tool tips. We call this handy behavior "inferencing": it's named after SketchUp's quasi-magical ability to infer useful points and locations based on the geometry in your model. Examples are the midpoint of a line, tangency on an arc, perpendicularity of all kinds... You get the point—and so does SketchUp.

Push/Pull

Extrude any flat surface into a three-dimensional form with SketchUp's patented Push/Pull tool. Just click to start extruding, move your mouse, and click again to stop. You can Push/Pull a rectangle into a box. Or draw the outline of a staircase and Push/Pull it into 3D. Want to make a window? Push/Pull a hole through your wall. SketchUp is known for being easy to use, and Push/Pull is the reason why.

Solid Tools

In SketchUp, a "solid" is any group or component that's completely enclosed; if it were a physical object filled with water, none would leak out if you shook it. The Solid Tools in SketchUp Pro give you the ability to perform special additive and subtractive (Boolean) operations on solids in your model. Use the Trim tool to cut the mortise for a tenon in a woodworking project. Use Intersect to model the overlap between projected top and side views of an object. Union "glues" multiple solids into a single one. Split breaks intersecting solids into pieces wherever they overlap, without deleting anything. Subtract uses one solid to cut away from another.
SketchUp Licensing
Individual license
The licence is possible to install and to activate to one computer only.
License protection
By software way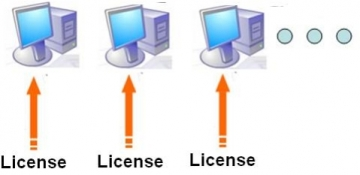 The license protection is solved by software way. To transfer your current license to a new computer you need to return your current licence first.
SketchUp - Download
Files:
SketchUp / SketchUp Pro
0 B 16-03-2015

To download a trial version of SketchUp ou will be redirected on the site of Trimble Navigation Limited company, where you could select the version and the OS.
SketchUp Make vs SketchUp Pro
In compare to Sketchup Pro, in Sketchup Make (for Home, Personal, and Educational Use) you will miss next features:
Import CAD files

2D file import: DWG and DXF
3D file import: DWG, DXF, DEM, 3DS, DAE and KMZ
* DEM, 3DS, DAE and KMZ are the only 3D import formats available in SketchUp Make

Export CAD and PDF files

2D file export: DWG, DXF, EPS, EPIX and PDF
3D file export: DWG, DXF, 3DS, OBJ, FBX, XSI, VRML, DAE and KMZ
LayOut file export: PDF, DXF, DWG, JPG, PNG and TIFF
* DAE and KMZ are the only 3D export formats available in SketchUp Make

Create multi-page presentations

SketchUp Pro includes LayOut for creating 2D presentation sets:

Choose a paper size and insert multiple SketchUp model views.
Add photographs, images, paragraph text, notes, labels and even dimensions.
Use powerful but simple illustration tools to create custom 2D vector graphics.
Your SketchUp model and your LayOut document are synchronized; model changes are reflected everywhere in your paper document.
Give full-screen, slide-type presentations with embedded 3D models you can zoom, pan and orbit.
Print colorful presentation sets at any paper size.
Export to PDF, TIFF, JPEG, PNG, DXF and DWG.

Produce construction drawings

SketchUp Pro includes LayOut for producing detailed construction documents:

Choose a standard paper size or specify a custom one.
Create title blocks, page numbers and other drawing elements.
Embed SketchUp model views and give each a specific drawing scale.
Adjust line weights and rendering modes (raster, vector or hybrid).
Keep models and drawings synchronized automatically.
Add dimensions, callouts, material hatches, notes, symbols and other graphics.
Print documents to scale.
Export to DXF, DWG, PDF, and several raster formats.

Print drawings to scale

LayOut in SketchUp Pro provides an easy way to print model views to scale:

Choose high-resolution raster rendering for views with lots of color, textures and shadows.
Choose smooth vector rendering for views with precise linework and crisp detail.
Choose hybrid rendering to combine the best aspects of raster and vector modes.
Print any sheet size, including large-format paper.
Print documents with multiple pages.
Print multiple SketchUp model views on the same page.
Scale models to paper space quickly and easily.

Export scene-based video of any size

SketchUp Pro lets you specify any pixel dimensions for exported videos. You can export movies as AVI, MP4, and WEBM files. You can export keyframes as JPG, PNG and TIFF files.
Add custom attributes and behaviors

Dynamic Components in SketchUp Pro allow you to:

Quickly add and configure model attributes.
Automate routine modeling tasks.
Scale objects without distorting them.
Interact with components to trigger custom animations.
Assign data attributes to models for advanced reporting.

Generate lists and reports

With SketchUp Pro, you can leverage the attributes and metadata associated with the geometry in your model to generate lists and reports in XML and CSV formats.

Use solid modeling tools

The Solid Tools in SketchUp Pro provide the ability to do additive and subtractive modeling operations on groups and components in your model: Union, Intersect, Subtract, Trim and Split.

Make hand-drawn rendering styles

SketchUp Pro includes Style Builder for authoring custom SketchUp Styles:

Convert hand-drawn strokes in any medium into SketchUp display styles.
Create styles that are completely unique.
Make your models and drawings a part of your visual brand.

Present files as full-screen presentations

LayOut in SketchUp Pro is a full-featured application for turning your 3D models into 2D documents and presentations. It includes a full-screen presentation mode that lets you flip through the pages of your document like a slide show. You can navigate around inside your model views while you're presenting, and even play animations based on the scenes in your model.

Work with simulated film cameras

SketchUp Pro includes Advanced Camera Tools for Film and TV design professionals:

Place cameras in your model and look through them to preview your shots.
Choose from dozens of pre-configured camera types, or create your own.
Set the Focal Length of any camera to simulate a large number of physical lenses.
Look through your ACT cameras to preview Aspect Ratio and Safe Zones for the shots you're planning.
Position and aim cameras using familiar moves like Pan, Tilt, Roll, Dolly, Truck and Pedestal.
Toggle on and off all of your ACT cameras' frustums to clearly see what is—and isn't— visible in your shots.

Access email technical support for one year

Every new SketchUp Pro 2013 license includes one year of complimentary email tech support.

Receive free upgrades for one year

Your SketchUp Pro 2013 license includes free software updates and version upgrades for one year.

Licensed for commercial use

Use SketchUp Pro for anything you like, including professional projects and other commercial applications